*Vitamin A, calcium, magnesium, manganese; zinc; bitters, bioflavonoids, resin, volatile oil(including thymol and camphor); omega-3 and -6 fatty acids
√ Antimicrobial, antioxidant, antiseptic, antispasmodic, astringent, carminative, expectorant
Thyme (Thymus vulgaris) contains the volatile oil thymol, a powerful antiseptic and one of the most effective of all herbal antibiotics. It is useful in the treatment of respiratory-tract infections, such as bronchitis, laryngitis and whooping cough, and helps relieve the symptoms of asthma. Thyme is also beneficial in the treatment of gastro-intestinal disorders including colic and diarrhoea.
RECIPES (*can be found in the book)
beans and tomatoes on toast
Italian butterbean soup
marinated olives
mushrooms with sage and thyme stuffing
catalan salad
cough mixture
eucalyptus mix
Article sourced from and with kind thanks to The Complete Guide to Nutritional Health.
Available from Amazon.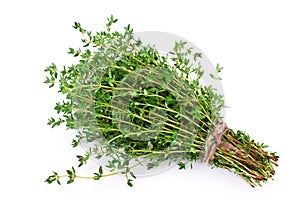 © Photographer: Natali572 | Agency: Dreamstime.com
Related Posts
« The Best Tuna Salad EVER Exploring Early 19th Century Lady Mags: Recipes »