Super Woman- Conqueror of Challenges
Author: Christine McLean
The following lines of Alicia Keys' song Super Woman have always stood out to me
"Even when I'm a mess I still put on a vest with an S on my chest. Oh yes I'm a Superwoman".
Every day there is a mother who is working two jobs to ensure that her children have all they need to survive. Additionally, there are an increasing number of women who are not only balancing the responsibility of a career and children, but also have to deal with going to school to advance their careers. There is a woman who I work with who fits such a description. She is in her late thirties, is married, has three children (one of them is four years old), and is going to school part-time to get her Bachelors degree. For three days each week she has to leave work by 2:00 to ensure that she gets to her 5pm class in Kingston which is far from where we work. Most nights she only gets two hours of sleep because she is up completing assignments and preparing for the next work day. I believe that she is a classic example of a Super Woman; a woman who knows what she stands for and is determined to make all the sacrifices necessary ensure that she is able to provide for the needs of her husband and children.
Over the decades, the woman's role has changed from being the one who cooks, cleans and bears children to the one who not only does these three things, but also contributes to the financial needs of the household. Despite the challenges, women have been able to embrace their new roles and accomplish the seemingly impossible. The real question is…how do women find the strength to do all of these things?
She Has Support
Whether it is a spouse, a relative, or a group of friends a woman always ensures she has someone she can depend on. When she needs someone to watch the children as she moves from one job to the next, there is someone there. When the pressure of life seems to become unbearable, she has someone she can talk to. The co-worker I mentioned earlier told me recently that when she is up studying at midnight, her husband is lying in the couch beside her keeping her company. Support makes the challenges bearable.
She Has the Right Mindset
The Super Woman knows that she has to do what she has to do to survive. If it means sacrificing sleep, she will give it up. If it means less time to go out with her friends, she will make the sacrifice. She understands that positive thoughts yield positive results and she makes a conscious effort to think these thoughts each day.
She Depends on Her Creator
Although not everyone believes in a god or the same god, many Super Women acknowledge that they are on this earth for a reason that is fulfilled through the belief in a Creator. This faith gives her the strength to weather the many storms she faces.
Women have, and will always continue to juggle their lives.  Embrace the Super Woman you are and make a difference.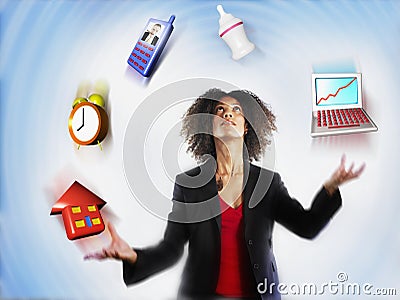 © Photographer: Photographerlondon | Agency: Dreamstime.com
Related Posts