Eat lots of foods containing vitamins B5, B6, B12 and E, trace elements such as selenium and magnesium, and bioflavonoids and carotenoids. Follow an elimination diet (detailed in the book) to discover which foods and drinks aggravate your allergy. To strengthen and detoxify your immune system, avoid animal products, coffee, tea, chocolate and refined sugar, and limit your intake of potatoes and citrus fruits. Consider excluding wheat during the hayfever season.
Keep your house as dust-free as possible. For example , consider having wooden or tiled floors with rugs instead of carpets, which trap dust and animal dander. Exclude pets from bedrooms and main living areas. Wash all bedding regularly, using washing powder or perfume-free washing liquid and choose non-feather and low-allergy mattresses, duvets and pillows, and open the windows at least once a day in winter.
Article sourced from and with kind thanks to The Complete Guide to Nutritional Health.
Available from Amazon.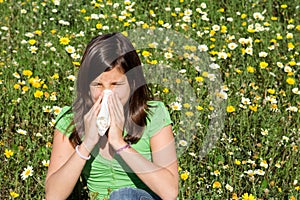 © Photographer: Godfer | Agency: Dreamstime.com
Related Posts
« 5 Ways to Workout Without Even Thinking About It The Most Amazing Chicken Salad Recipe EVER »