Real Life Stories: Hannah
Author: Mary
In this article I have used pseudonyms to protect the identity of individuals but the content is real. I have also tried to compress the real life experiences of the person I am going to write on in a summary with no detailed information. This is the real life story of the late Hannah as it is told by her surviving husband James, who is now my current partner.
One summer morning as I sat by the sea side relaxing admiring the activities of the sea life in front of me, along came a lonely gentleman called James. He appeared to be a happy old man, well dressed in casual shorts, short sleeved shirt and quality sandals. This man caught my attention but I tried to avoid looking him in the face lest he would notice I was attracted to him. Little did I know that although we are from different ethnic groups this James was also attracted to me.
As James approached where I was sitting with my sister, he gave a shy cheeky smile and I automatically winked back without giving a second thought. James asked if he could join us for a chat to which we accepted. Oh God knows, what was in store for us. We chatted for more than three hours and decided to keep in touch. As the days slowly went by, I met James more often and eventually the meetings became more frequent. Then finally after three months of seeing each other we fell helplessly in love.
All along James presented as a jolly man. He was lonely after losing his wife, and we found this to be – and it remains – our common ground of discussion. He is a widower and I am a widow. Every time we met we would talk about our deceased loved ones. Eventually James started to open up more after we had fallen in love. Little did I know that he was a very emotionally bitter man. Life had never been easy with him and his late wife.
Hannah had fallen pregnant at the tender age of seventeen when she was James's girlfriend. She gave birth to a lovely healthy baby girl but Hannah's family would not let her look after the baby because they said she was too young and not capable of raising a child. Hannah's family also did not want her to have anything to do with James. The poor baby that Hannah gave birth to was given up for forced adoption by Hannah's family.
Hannah was so distraught by this decision. She was forced to move and live with relatives in a different town to make sure she had no contact with James, but this did not stop the love-birds from keeping in touch. It only meant that James had to remain under cover whilst in touch with Hannah. Time went by and when Hannah had reached the age of consent, which was twenty-one years back then, she was allowed to rejoin her birth family. It was only then that James and Hannah could start to see each other openly because they both had reached the age of consent.
James and Hannah then got married and James had to pretend he did not know that Hannah had ever had a baby even though it was also his baby. James tells me that during the next forty-four years that they were married, Hannah always grieved the daughter that she was deprived of. Hannah never had another baby because she could not come to terms with having another baby; especially after having had her first ever child taken from her against her consent. James tells me that Hannah was always very tearful. According to healthcare professionals, she did not have issues that required counselling intervention; and so she was left to grieve without support. Thirty years into James and Hannah's marriage, there was an anonymous call to Hannah. On the other end was her long lost daughter Julie who had managed to track Hannah down. Hannah felt so happy to be re-united with her daughter. She had to be supported by her husband James, who is the secret father of Julie and was denied the opportunity to care for their beloved daughter.
Although the daughter and biological parents were re-united, they did not bond as parents and daughter since the child had other parents who had cared for her. They were more like friends. James tells me he saw Hannah smile and being less tearful from the time of the re-union. But the wound has never healed. The experience of losing a child has always haunted both James and Hannah.
Unfortunately Hannah died fourteen years after being re-united with her daughter. At least she died a happy woman, but life had been so unfair for her.
Now that I am someone interested in the wellbeing of women and issues that affect women, I feel it is my concern to write about this sad experience since there are more women in Hannah's situation. You can imagine how life treats us women, as objects with no feelings, how unfair. I hope more women would stand up and fight for the rights of women irrespective of our ethnic groups.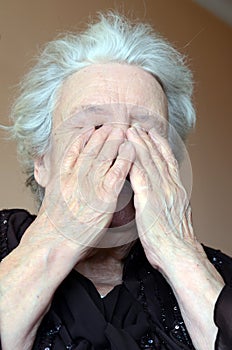 © Photographer: Berna Namoglu | Agency: Dreamstime.com
Related Posts
« How to let him down lightly Is your man metro-sexual or just gay: how can you tell? »