4 small ripe avocados
2 tsp ground coriander
2 tsp ground cumin
1/4 tsp cayenne
4 tbsp lemon juice
2 garlic cloves, finely chopped
1cm cube of fresh ginger root, finely chopped
2 ripe tomatoes, finely chopped
Sea salt and freshly ground black pepper to taste
To garnish: 1 bunch of fresh coriander leaves, chopped
Blend the avocados with the coriander, cumin, cayenne, lemon juice, garlic and ginger until almost smooth. Transfer to a bowl, stir in the tomatoes. Season, cover and chill before serving. Granish with the fresh coriander leaves and serve with tortilla chips and carrot sticks.
Article sourced from and with kind thanks to The Complete Guide to Nutritional Health.
Available from Amazon.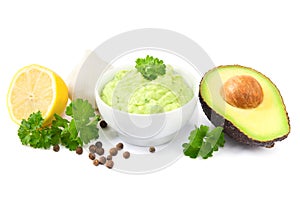 © Photographer: Inganielsen | Agency: Dreamstime.com
Related Posts
« 21 Ways Expert Authors Can Go Green The Importance of Water »