Use in vinaigrette and marinades or to brush food prior to cooking.
6 sprigs of thyme
1 or 2 sprigs of rosemary
1 sprig of sweet marjoram
1 tsp black peppercorns
3 cloves garlic, peeled and left whole
2 shallots, left whole
6 bay leaves
1 litre olive oil
Seal all ingredients in a pickling jar.  Leave for 1 month.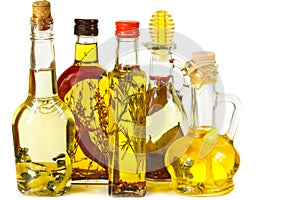 © Photographer: Lillali | Agency: Dreamstime.com
Related Posts
« A Practical Guide for Handling an Abusive A**hole – Week Three A Practical Guide for Handling an Abusive A**hole – Week Four »