Harvest fresh, young nettle tops from nettles growing away from busy paths and polluted areas.
If nettles are out of season, use young spinach leaves instead.
2 medium onions, sliced
2tbsp olive oil
400g risotto rice
150ml dry white wine
1 litre vegetable or chicken stock, kept hot
200g nettle tops
Salt and pepper
115g Parmesan cheese, freshly grated
To garnish: 2tbsp chervil or parsley, finely chopped
In a heavy-based saucepan, gently sweat the onions in the olive oil for about 10 minutes. Stir in the rice to coat with oil and cook for about 2 minutes. Pour in the wine and cook until the rice has absorbed all the liquid. Add the vegetable or chicken stock, a ladleful at a time, allowing the rice to absorb it all before adding more. Continue until the rice is cooked, but still retaining bite – the risotto should be loose and creamy. Meanwhile, steam the nettles until thoroughly wilted. Squeeze lightly and chop roughly. Stir in the risotto and heat through for 2 minutes. Season well and serve immediately, sprinkled with Parmesan and chervil or parsley.
Article sourced from and with kind thanks to The Complete Guide to Nutritional Health.
Available from Amazon.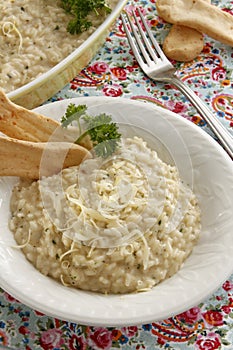 © Photographer: Gabrieldome | Agency: Dreamstime.com
Related Posts
« Get Wordy With Me #2 Double Polish Review: Formula X's "High Frequency" and Deborah Lippmann's "Mermaid's Dream" »