1kg blackberries (or bilberries, mulberries, raspberries or blueberries)
3tbsp raw cane sugar
2tbsp white flour
For the topping:
100g wholemeal flour
100g rolled oats
4tbsp chopped nuts
150g vegetable margarine
4tbsp honey
Preheat oven to 200 degrees celcius/gas mark 6. Mix the blackberries with the sugar and flour in a pie dish. For the topping, mix the flour, oats and nuts in a bowl, then rub in the margarine and honey. Cover the berries with crumble mixture and lightly smooth the surface. Bake for 30 minutes or until golden. Serve warm or cold.
Article sourced from and with kind thanks to The Complete Guide to Nutritional Health.
Available from Amazon.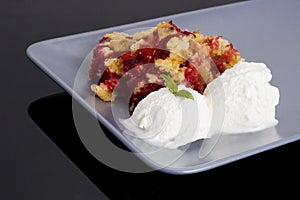 © Photographer: Kiboka | Agency: Dreamstime.com
Related Posts
« A good case for avoiding alcohol, cigarettes and drugs Math Problem Solving Approach »