Dosage: 150ml of the warm infusion four times a day or when desired.
Properties: stimulates digestive system, anti-emetic
Good for: heart and circulation, digestive system, respiratory system, nervous system, digestive problems and morning sickness during pregnancy.
2tbsp fresh ginger root, grated
150m boiling water
Sugar to taste
Pour the boiling water over the ginger and cover. Allow to infuse for 5 minutes. Strain and sweeten with a little sugar.
Article sourced from and with kind thanks to The Complete Guide to Nutritional Health.
Available from Amazon.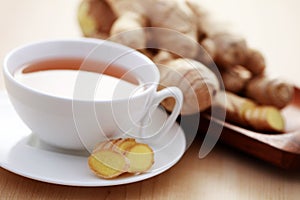 © Photographer: Matka_wariatka | Agency: Dreamstime.com
Related Posts
« How the modern diet fails Cumin-seed decoction for digestive health »